The organization
The General Assembly (GA) is the sovereign power of the association. It is composed at the end of August 2018 of 65 members that are natural persons and 3 legal persons. All our members participate in the life of Eclosio, especially by validating decisions that are fundamental to the NGO.
The Board of Directors (BoD), which emerged from the GA, is composed mainly of members from the academic community of the University of Liège but also of non-university members whose experience and interests converge with Eclosio's. The Board of Directors meets every two months. It compiles cross-sectorial expertise that enables it to best fulfill its role of institutional, strategic and organizational management of Eclosio. The directors carry out their mandate on a voluntary basis, for a renewable period of three years. They are involved according to their areas of expertise and the needs of the association.
Anyone interested in Eclosio, its vision and missions, and wishing to contribute or participate in its actions, can apply in writing (covering letter).
This request must be sent to the secretariat: sylvie.alves@eclosio.ong.
The general meeting following the application form will vote for the member candidates.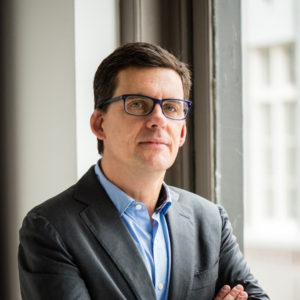 The current Chairman of the Board of Directors is Patrick WAUTELET, an ordinary professor and vice-dean of research at the Faculty of Law of the University of Liège.
The other members of the Board of Directors were elected during the extraordinary general meeting that took place on September 7. They are: Nicolas Antoine-Moussiaux, Nathalie Fagel, Jean-Luc Hornick, Michel Hoyos, Guy Mergeai, Aurélie Noiret, Marc Poncelet, Anne Totté, Patrick Wautelet, Philippe Vincent, Raphaël Coppin.
Eclosio joins the team of UniverSud-Liège. UniverSud-Liège has its own Board of Directors which decides on all questions relating to publications, analysis and studies related to Permanent Education. Eclosio's Board of Directors debates and decides on overall strategic orientations. The team of UniverSud-Liège is responsible for the publications and studies unit (included in the Belgium axis of the organization chart).
Internal functioning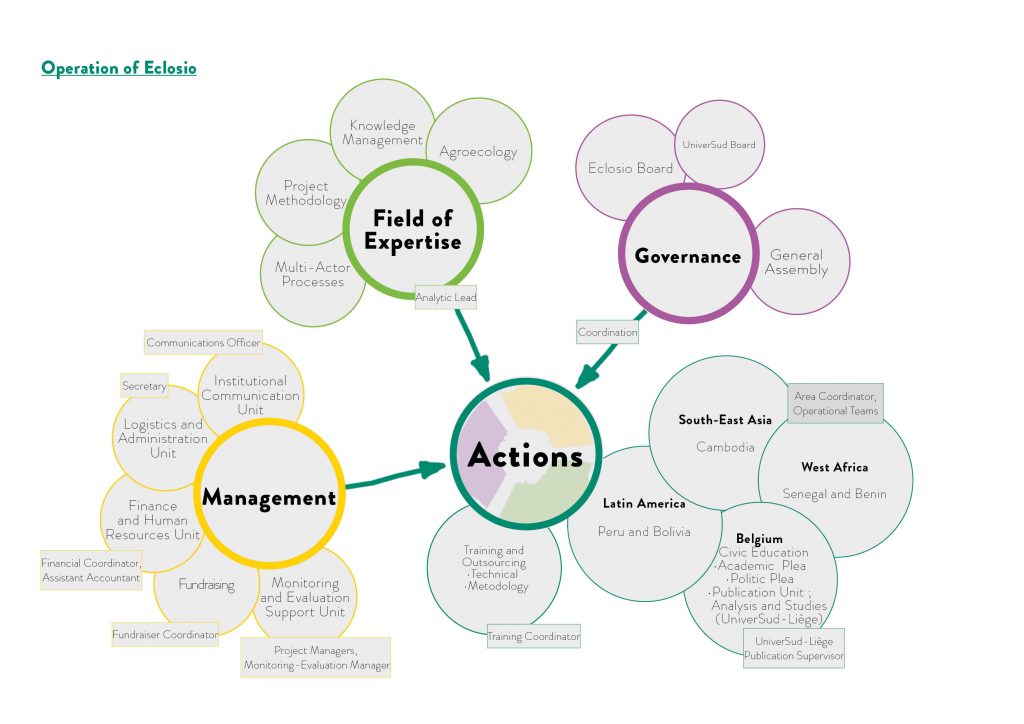 Eclosio is organized into four poles (one person can be in several poles):
What constitutes its actions in order to carry out its missions:

our actions in Belgium;
our actions in Western Africa (Senegal and Benin); in Latin America (Peru and Bolivia) and in Cambodia; and
training and services we provide for third parties.

Strategic support enables Eclosio to operate and strategically project itself. It is composed of several units: financial and human resources, communication, project management, monitoring and evaluation, secretarial…
The areas of expertise include competencies and skills that are making our expertise and experiences, which we would like to develop. Each area is coordinated by a referent in Belgium, and their representative in other countries.
In terms of governance, Eclosio ensures that its structure remains fairly horizontal. Each hub has its own responsibilities, is connected to other hubs and so takes part in the organization's debates and strategic approaches, coordinated by, Sophie Pascal, the Coordinator. She was delegated the daily management of Eclosio by the board of directors, elected by the general assembly, which is the sovereign power of Eclosio. At all levels, Eclosio ensures that the NGO's visions and missions are respected.
We are currently working in five non-European countries of intervention (Senegal, Benin, Peru, Bolivia and Cambodia). Our head office is in the University of Gembloux, Belgium. We also have a team in Liège, Belgium as well as in the following countries: Senegal, Benin, Peru and Cambodia.